Biography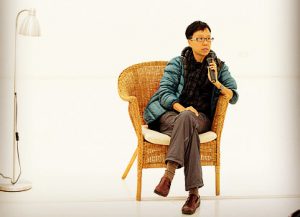 Born in Hong Kong, Yau Ching is known in the Chinese-speaking world as a writer and in the English-speaking world a filmmaker and video artist. While managing her multiple identities, she has been making socially engaged work for more than three decades. She has authored more than twelve books, including award-winning poetry collections. She studied at the University of Hong Kong, New School for Social Research, Whitney Independent Study Program in New York, received her PhD from Royal Holloway, University of London, and was a Rockefeller Postdoctoral Humanities Fellow at the University of Hawai'i. While she was teaching at Lingnan University in Hong Kong, National Chengchi University in Taiwan, University of Michigan, and University of California at San Diego, she was actively involved in community organizing and public education including co-founding an organization for sexual minorities in Hong Kong, co-founding Sex Workers' Film Festival, Women's Theatre Festival in Hong Kong, and Asian Lesbian Film Festival in Taiwan, among others.
Before academia, Yau Ching has worked as instructor and consultant for Gay Men's Health Crisis' "Living with AIDS" cable show, as translator for multinational corporations, as reporter for Chinese newspaper in New York, as editor for film magazine in Hong Kong, and on the side, an independent film/videomaker. Her film/video works have been invited to venues including Alexanderplatz Station of the Berlin Underground, Yamagata International Documentary Film Festival, Galarie nationale du Jeu de Paume in Paris, Museum of Modern Art in New York, and broadcast in North America, Europe and Japan.
Starting from 2017, she is Honorary Professor at the University of Hong Kong and Visiting Professor in Liberal Arts at Shantou University, China. She is Adjunct Professor at Center for China Studies of the Chinese University of Hong Kong in 2018. She plays Go/weiqi unprofessionally.
---